CUSTOM USB FLASH DRIVE 3D WITH YOUR OWN DESIGN
Personalization is a deciding factor in many marketing strategies. If your promotional action includes the use of USB memory sticks, but none of our more than 150 standard models meets your needs, don't hesitate: design your own 3D pen drives. Or just imagine them. Our creatives will carry out the development for you, based on your indications or a simple sketch. We will take care of the entire process, until you see your idea realized. From only 50 units for 2D USB sticks (those with 2 parallel planes and a silhouette cut out according to the image of your logo, for example) and 50 units for 3D USB sticks (those without restriction in terms of their volumetric shape). And at such a competitive price that the production of your shaped USB sticks will easily fit into the budget you had reserved for your standard USB sticks.

TELL US YOUR IDEA
What do you want to reproduce? One of your products? Your logo? Our molding techniques have their limitations (some very complex designs may need to incorporate some simplifications), but our extensive experience in virtual USB development with 3D shapes will provide the most realistic solution to your project. You only have to indicate those distinctive parts of the design, which will give your USB with original designs their own personality. Our designers will advise you without obligation on the best solution to put them into practice.
An example: one of our clients is engaged in the construction of modular buildings, and he sent us an image of one of his modular social housing.
Our creatives studied the project and soon we sent the client some highly realistic virtual images of how the final development of their 3D pen drives could turn out.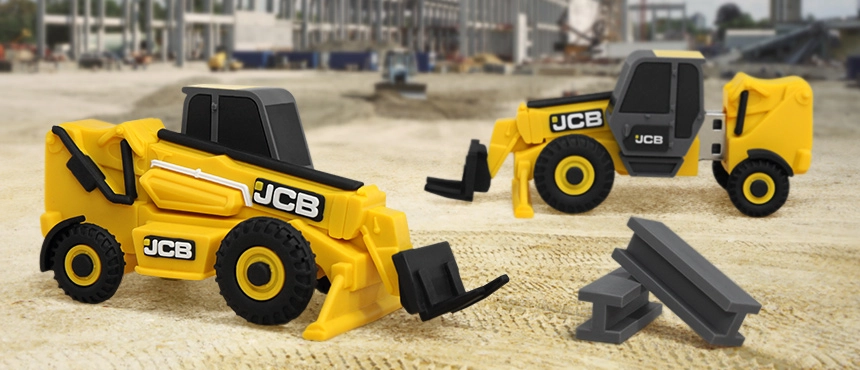 PRODUCTION TIME
Upon receipt of the client's agreement, we proceed with the production phase. This begins with the manufacture of molds, in which the filling material of different colors will be injected, which once set will shape your project. This material is called Soft PVC, which solidified presents a consistent appearance, of great durability, but at the same time very pleasant to the touch. In a period of approximately 15 days, your 3D pen drives will be ready for delivery (this period may vary slightly depending on the number of units and the degree of complexity of the design).
As specialists in the development of 3D shaped pen drives, we have a specific division called USB-brand. We create, at an affordable price, totally uniquely designed USB sticks for you to your specifications. Your imagination is the only limit. From the most basic to the most complex, from a drawing to a 3D representation, we create highly realistic digital representations that serve as the basis for bringing your ideas to our production line. If the hundreds of existing references do not satisfy your differentiation needs for your promotional project, USB-brand will be your ally as a solution provider in the production of your "100% custom" memory units.