Cheap USB Flash Drive Factory in China
USB sticks with your company logo to promote your brand in an original technological way. In an increasingly technological world, personalized pen drives are highly appreciated promotional gifts. For this reason, The USB Factory offers you a very varied collection of customizable USB memory sticks that include the classic cheap personalized USB sticks, available in various colors, special advertising USB sticks such as credit card shaped USB sticks, USB bracelets and elegant USB pens. Incorporated. We personalize the pendrives with a logo or with an inscription or an image not only for companies but we also manufacture personalized pendrives for individuals at the same convenient prices. Like all the products we offer, even the advertising USB sticks are very easy to personalize with your logo or slogan through our website, or, alternatively, you can contact us by mail or phone to provide us with all the information we need to create you. a prototype that we will send you later, along with the budget.
CHEAP USB FLASH DRIVE CHINA FACTORY
[gravityform id="1" title="true" description="true"]
USB memory sticks and advertising Pen drives for companies
The USB Flash Drives are one of the most demanded technological items among the business scene, so from Garrampa we offer the option of customizing your data USB memories to have all your corporate technological gadgets. It is a useful gift to give to customers who you know use technological tools to carry out their daily work tasks, so if you also add your brand logo as a company in each of them, you will increase your brand visibility among your customers.
USB Cards Flash Drives for Advertising
We have a wide catalog of USB memory customization in our USB Flash Drive China Factory and adaptable to all types of colors, size formats and materials. It is one of the most valuable technological items that you can give away at any event, fair, congress and conference. Nowadays all technological tools are adapted to the USB format, so giving away memories with a USB connection will be a success with which your logo will increase the memorability of your brand.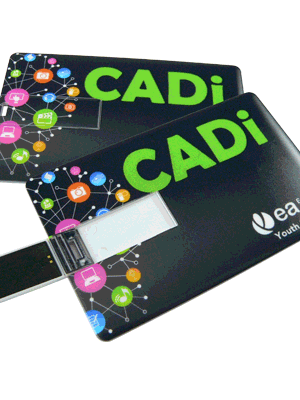 USB Card Flash Drive China Factory
[gravityform id="74" title="true" description="true"]
Eco Credit Card USB Flash Drive China Factory
[gravityform id="3" title="true" description="true"]
FREQUENTLY ASKED QUESTIONS ABOUT CUSTOM USB FLASH DRIVES
Why buy personalized USB sticks at The USB Factory in China?
The USB Factory is a supplier, manufacturer and wholesaler of personalized USB memory sticks, personalized with logo, photo or text, advertising USB sticks at low prices. We carry out the screen printing of personalized advertising USB sticks directly from the factory, which allows us to control the manufacturing costs of the USB sticks, the quality and the delivery times. Order custom promotional USB sticks in small or large quantities. Personalized USB sticks for companies, individuals. Personalized USB sticks for associations, schools, company committees. Personalized USB sticks for communities, administrations. Discover the catalog of personalized USB sticks. For this reason, for many years, thousands of clients have trusted Garrampa for their purchases of high-tech promotional items and cheap personalized USB Flash Drives, with professional know-how at the service of companies, associations, schools and municipalities. Make your estimates and orders online.
How to choose a cheap USB Flash Drive?
To choose a personalized USB stick, you must first analyze your needs and ask yourself some questions such as: Do you need an advertising USB stick for an event, a trade fair, a seminar, a convention? Custom USB flash drives to equip your employees? USB stick for advertising? What storage needs, 1GB, 2GB, 4GB, 8GB, 16GB, 32GB can be even more? You can choose your USB memory according to the model, the memory capacity according to your needs. Personalized USB memory in ecological natural wood. Personalized USB memory in the shape of your logo. Personalized USB memory in credit card, business card format. Custom USB memory with double connector. Personalized Professional 3.0 USB Flash Drive. Garrampa offers you customizable USB memory sticks in small or large quantities, plastic keys, metal keys, natural wood USB keys, leather keys, USB keys in the shape of your logo, USB keys for credit cards, double connectors, USB keys professionals at discount prices. With Garrampa you buy high quality personalized USB sticks at low prices, personalized advertising USB sticks available in a wide range of colors, shapes and memory capacity, cheap personalized USB sticks from 25 copies.
What memory capacity to choose, 1GB, 2GB, 4GB, 8GB, 16GB, 32GB, 64GB?
To choose the flash memory capacity of a USB flash drive, you have to think about the usage. In Garrampa you have the possibility to choose with different memory capacities. The 128MB / 256MB / 515MB / 1GB USB sticks, small capacities that were still the norm not so long ago, will be perfect for uploading documents, files. USB sticks with capacities of 2GB / 4GB / 8GB, which have become the most requested capacities, are ideal for uploading company presentation videos, PDF catalogs, these capacities are now the standard. The 16GB / 32GB and 64GB USB sticks are perfect for loading movies. The choice is made based on storage needs, USB drives are perfect for temporary storage. There are different options and techniques for using a promotional USB stick. Garrampa offers you the possibility to duplicate your files, videos and photos, brochures and catalogs. You can customize your password to make it unique, with the use of an individual name or number in each password, you can lock your data to protect your files. You can put an autorun link, it is a function that allows you to automatically launch your files, the name of the volume to name your key when the disk is formatted, etc.
How can be customized a Flash Drive in China?
To personalize the promotional flash drives with your logo, you can choose between 3 different printing techniques. If you want a print that lasts over time, you should choose an elegant laser engraving that does not have color, or your logo will be a metallic gray, since the laser engraves the base of your promotional usb. If you want a color printing you have screen printing or digital printing available, while the first is an economical printing technique that allows you to color your logo with only 4 flat colors, the second allows you to customize the pen drives with logo without limits of colors that enter other things can be shaded. When you choose a round or credit card shaped USB stick, we absolutely recommend digital printing so that you can personalize it with an extremely attractive, creative and original image that captures the attention of customers and amazes them. On the other hand, if you choose wooden USB sticks, we recommend laser engraving which will have an effect similar to that of the bas-relief. In any case, the usb factory puts at your disposal a reliable customer service that you can consult at any time (Monday to Friday, from 9:00 a.m. to 6:00 p.m.) and that will be happy to answer your questions and advise you on the best technique. your logo, so please contact us.
What is the difference between custom 2.0 pen drives and customizable usb 3.0 pen drives?
The main difference between 2.0 and 3.0 technology is the data transfer speed. With promotional USB 3.0 you can copy, save or share files 10 times faster than normal advertising USB 2.0, which can transfer data up to 480 Mbps. Therefore, 3.0 technology offers concrete benefits in terms of performance, without compatibility problems because they are compatible with USB 2.0 ports. However, the transfer speed of custom 3.0 pen drives is guaranteed only if the input port of the device where you connect them supports 3.0 technology.
How long does it take to deliver personalized USB Flash Drives?
The USB Factory offers a wide range of personalized USB sticks at reduced prices that we deliver quickly. Custom USB Flash Drives are generally delivered within 10-12 business days, depending on the quantity and model of custom USB stick ordered. We also have express and premium production deadlines for more urgent orders.

Do you have Cheap custom USB sticks in Your Factory in China?
In our catalog there are USB memories for companies that are in different categories defined by the materials with which the memory that is purchased is made. Among the different USB flash drives for advertising, the cheapest is the popular twister model, a classic swivel model, which is very versatile and is available in various colors for both body and clip. We also have a key, card and even bracelet format, whose designs are modern, attractive and flee from classical aesthetics, so they can be a very original promotional gift.
What capacities are available on USB sticks in China?
In USB for companies we offer USB drives available in 128 MB, 256 MB, 512 MB, 1GB, 2GB, 4GB, 8GB, 16GB, 32GB, 64 GB and 128 GB. However, this depends on the individual articles since, for example, for 3.0 memories only those with the highest capacity are available. We encourage you to explore the entire section of personalized USB memories: within each tab you will find the specific capacities for each product as well as the marking techniques. It is important for us that you can find those promotional USB drives that best suit what you are looking for.
What is the minimum order for custom USB sticks in your factory?
The order varies by model, although the minimum standard for advertising USB sticks is usually 25 units. As it is a custom production it is necessary to establish this rule since, otherwise, the cost would be very high for very few units. We take this opportunity to emphasize that the shipment of personalized USB memories is free and that, once the virtual sample has been accepted and the manufacture of the same has been carried out, a tracking code will be sent to be able to follow the status of the order at all times. In this way, you will see the course of the delivery of the same.
Do you wholesale USB flash drives without printing?
Despite the fact that most of the USB memory sticks that we sell are printed, it should be mentioned that we also have stock with the option available without marking if desired. Generally, we do not recommend this alternative if you plan to do some merchandising action at events or launch a promotion for clients in which these accessories are given away because the branding part is lost. Personalized USB sticks are consistent with the company's corporate identity, which is why we recommend including the logo and, if possible, choosing the color that aligns with the brand image.