Do you constantly run out of battery? Well, the same thing happens to all of us. Without a doubt, this is a good opportunity to give away wireless mobile chargers to your audience. Forget about uncomfortable cables and charge your mobile quickly and comfortably. You just have to place your smartphone on top and see how the charge starts. Give personalized wireless charging bases if your customer profile is very technological, they will love your brand.
Choose the best wireless mobile chargers to record your advertising and succeed
Few promotional gifts will excite a geek more than a wireless mobile charger. With its compact design, your customers will take it anywhere, just like wireless power banks. In addition, all our wireless chargers use Qi technology, which allows you to charge phones, tablets and other accessories enabled with this technology, better impossible!
Wireless chargers that work for the best brands such as Apple, Samsung, Xiaomi and Huawei
With these customizable wireless chargers, your customers will be able to charge their terminals of any brand on the market, as long as they are the latest models that already support wireless charging. For example, Apple allows it starting with the iPhone 8 and later. The convenience provided by this system will greatly benefit the recipients of the corporate gift. We have made runs of these wireless charging bases for technology startups that give them to their employees to be up to date.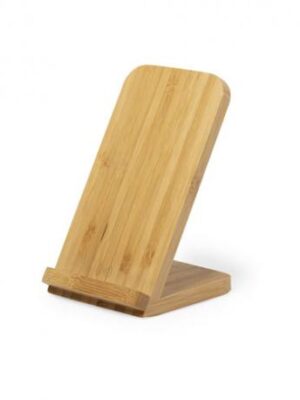 China Factory charging base Bamboo Wireless China Producers With Logo
[gravityform id="70" title="true" description="true"]
Wireless Charger FAQs China Factory
How do wireless charging phones work?
An electromagnetic field is used to transmit the energy from one end to the other. The charging stand, which is connected to the current, generates this energy that the mobile phone receives when it is placed on it. Your device needs to support this type of charging in order to use the wireless charging pad.
What phones have wireless charging?
It will depend on the model, you will have to consult the manufacturer's specifications. Some popular models that do support a wireless charger are the following: from the iPhone 8 to the most recent (iPhone X, iPhone 11, iPhone 12 and also iPhone SE) Xiaomi Mi 10, Samsung Galaxy S10e, OnePlus 9 Pro, Huawei P30, etc.
Can Qi chargers be personalized with a logo?
Yes, you can design your own custom wireless chargers. The most popular option is to make the design in screen printing or pad printing, an economical technique that allows printing in color and with good results. Other techniques that can also be used are full color digital printing and laser engraving if you are looking for a more elegant finish.
What materials are custom wireless chargers made of?
We have a wide variety of wireless mobile chargers in different materials and designs. You can find them in ABS plastic, which is the most common material for this type of product, although there are also sustainable options such as cork, bamboo, and wheat straw if you want to opt for eco-friendly alternatives.
What are the advantages of giving away personalized wireless chargers?
For your clients and your target audience, you will mainly provide comfort, since these products do not have a cable connected to the mobile, they do not damage the connector input. They are universal and valid for any compatible device. In addition to all this, if they are personalized with your brand, it will be a highly appreciated promotional gift because it is a technology device on the rise, where your brand will always be present.
How much time will the order last?
Our mobile charging bases are available from a period of five working days. You must bear in mind that the most usual delivery time for the preparation-reception of the products is 7 to 9 working days.
We are a wireless chargers factory in China and our chargers are items that are increasingly in demand by companies for promotional gifts. The use of technology has become essential in our daily lives and running out of battery in the mobile phone due to continued use is a very common problem. For this reason, mobile charging bases are highly appreciated products by companies in their marketing strategy. They are practical and solve problems, which gives them high added value. They are also convenient, because your recipient no longer needs to always carry the cable to recharge the battery. In addition, the quality of the printing guarantees that your brand is perfectly visible at all times.
In an age of constant connection like ours, we can't think of a better promotional gift than these cheap promotional wireless chargers. They are super comfortable, since you only have to leave your device on top of the charging station and it will be charged by magnetism in the shortest possible time. At The USB Factory in China we have the best wireless chargers on the market: their multifunctional designs will surprise you, while at the same time they will become the useful top of the office. Discover our different models of personalized wireless chargers with a case, in the shape of a circle, as a mouse pad (while you work with the computer, you can charge your mobile), as a pencil holder, as an organizer and notepad, with a car holder, as a photo frame, as a key ring, as an alarm clock or as a desk lamp. At Garrampa we have ecological models, made of natural materials such as bamboo, wheat cane or cork. Find your universal wireless charger now in this section.
Bluetooth mobile chargers With Logo Service
Among the original technological gifts for men and women, designer wireless chargers with bluetooth included are in vogue. Every day, the advancement of technology is appreciated more. Also in personalized items. In this way, with The USB Factoy in China as wholesale wireless chargers, you can charge your mobile without having to plug in the cable. All great comfort that you can send to your employees, suppliers, customers and potential customers. For this reason, cheap advertising wireless chargers are a very widespread option in all kinds of events: conferences, festivals, congresses, fairs… Even for more family occasions such as weddings. It will be a sensational detail, with which you will succeed among your guests. Do not think twice and get one of these bluetooth mobile chargers to give as a gift. Ask us at Garrampa and request your budget now. Welcome!
Wireless charging batteries in various colors
At The USB Factory we have wireless charging batteries in various colours, so you can choose the model that best suits you. Find in this section the technological gifts for adults and young people, with which you are sure to cause a sensation. And without the need for cables! Discover here our entire range of cheap advertising wireless chargers in white, black, grey, red, yellow, blue or green tones. In addition, wood is a leading element among our eco chargers. The top detail for the office or to ask friends to telecommute. Our customizable wireless chargers are super functional, comfortable and practical. Customize your battery charge, from the hand of The USB Factory.